Architecture
Zlín has always been mentioned as an example of unique urban design and architecture. It represents a specific phenomenon, and not only on a Czech scale. Its establishment was accompanied by one of the greatest and most elaborate applications of standardization, maximum economization of the construction and simplification as well as the limitation of the number of structural elements in all types of buildings. A combination of a reinforced concrete frame with a unified span of 6.15 x 6.15 m, with brick cladding and windows in metal frames gave rise to one of the most impressive branches of modern architecture - thrifty, rational and functional architecture working as a perfect machine. Zlín became one of the most important centres of inter-war modern architecture in the Czech lands and the only strictly constructed Functionalist town in Europe.
Bata Infopoint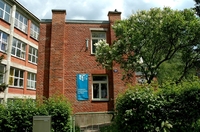 Nad Ovčírnou 1295, Zlín
Phone number: +420 737 740 800
Opening hours: Friday 10.00–16.00, or after a phone persuasion
In the Infopoint that is located in one of the original Bata houses, the specialized staff who are experts in Bata architecture will convey to you much interesting information regarding the architecture of the living quarters that were built by the Bata company for its employees. Using the models of individual types of houses some basic differences in typology as well as selected adaptations of the prototype houses to the current living conditions will be described to you. Should you be interested it is also possible to book a sightseeing tour following the Zlín architecture. Infopoint is accessible free of charge.
Download - brochure The architecture of Zlín