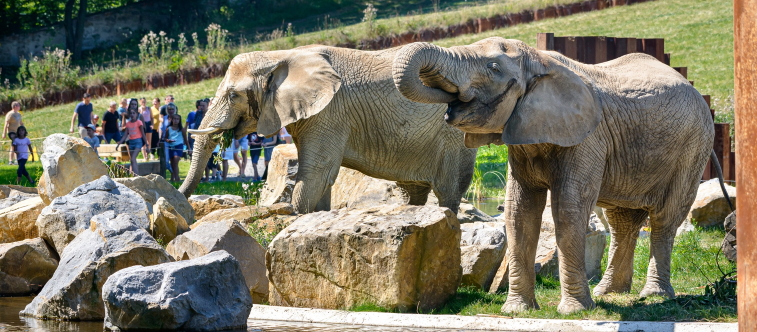 The Zoo and the Lešná Chateau
Lukovská 112, 763 14 Zlín 12, Phone number:  +420 577 577 101, e-mail: office@zoozlin.eu, web: www.zoozlin.eu
Chief executive: Ing. Roman Horský
|                Month | Ticket office |   Zoo |
| --- | --- | --- |
| January–February             | 8.30–15.30            | 8.30–16.00 |
| March | 8.30–16.30 | 8.30–17.00 |
| April–September | 8.30–17.30 | 8.30–18.00 |
| October | 8.30–16.30 | 8.30–17.00 |
| November–December | 8.30–15.30 | 8.30–16.00 |
Zoo and Lešná Chateau tickets can be purchased with a credit card. Euros are accepted throughout the zoo. Dogs and other pets are not allowed in the zoo.
Why should you visit the zoo?
The zoo is open the year-round. Visit the Zlín Zoo - you will not regret it. It is located 4 km in the Holešov direction and is one of the most-visited places in all Moravia. It is also the second most-visited zoo in this country. The large wildlife compounds with numerous animal species living together, the Yucatan tropical hall, the walk-through compounds and aviaries, the Lešná Chateau and the beautiful park with animals offer unforgettable experiences and all-day entertainment for the whole family. In one day, you can tour Africa, Asia, Australia and America and see 215 animal species. The most attractive animals are elephants, giraffes, rhinos, red pandas, gorillas, sea lions, lions, tigers, anteaters, penguins, parrots and many others. What you should not miss during your visit:

Lešná Chateau
See eleven rooms with period furnishings; you can even get married in the most beautiful Ancestors' Hall. A tour of the chateau must be purchased along with a ticket to the zoo (basic zoo admission does not include the chateau tour).
Chateau opening hours
The stingray bay
the pavilion is home to twenty sea stingrays, the rhinoptera jayakari species. The exhibit allows direct contact with the animals - visitors can touch or feed them.
Besides stingrays, you can find a terrarium with the coconut crab and smaller aquariums with invertebrate animals - prawns, sea anemones, crustaceans and corals.
Mu-Shin
A unique Japanese garden. You can find three Japanese white pines imported directly from Japan, many interesting plants, a wooden bridge, variously shaped stones, several Kasuga lanterns and many other objects.
The Tropical Hall
You will experience the atmosphere of a tropical forest, walk on a suspension bridge and discover the ancient civilization of the Maya peoples.
The Red Panda Compound
An attractive natural compound built at the end of 2011 shows the typical Asian animals in their natural environment.
Ethiopia
represents a new face of the Zlín zoo. Come and see not only geladas, hyenas and meerkats, but also a real native village.
African Pavilions
Pavilions in the shape of African-style huts offer meetings with elephants, giraffes, zebras and ostriches.
The Walk-Through Compounds
In several walk-through enclosures, you can observe lemurs, kangaroos, vultures, parrots and Asian waterbirds up close.
Hala-Bala
Exposition of unique Asian tapirs, one of the finest in Europe.
And what's more?
Narrated animal feeding, a train ride, a pony ride, a children's amusement zone, the Lanáček rope centre, two souvenir shops, four stylish restaurants.

Photo by Zoo Zlín